What is Cleaning & Laundry app?









It allows you to create and manage orders for dry cleaning and laundry store. On the main page of the application, you can view all the active orders with their due date, customer names, phone numbers, order total and the payment status.


When Customer is dropping off cloth, you may search their information by name or phone number. 

If the customer is found in the database, the information will be displayed in the search result. You may either view customer's order history or start the new order for the customer. If the customer is not found in the database, you can use "Add Customer" button to add the customer to the database and then create an order for the customer.

Note: The Create Order application is same as Clover Register application.



When you create order, you can select order type, due date and enter rack number as well notes for the service. You can modify these information of an existing order from order's detail page.

You may also print the Order Receipt in this page. The Due date and notes will be printed on Order Receipt. Payment for the order can be entered by using the "Pay" button.

When order is ready, you can use "Mark Ready" button to mark the order as Ready order.


Text Reminder

This Feature is only available to "Advanced" subscription users.


You may choose to send SMS reminder to customer's mobile phone if the customer's phone number is stored in Customer database. Just simply select the "Text customer a notification" check box on "Mark Order Ready" dialog. Customer then will receive a text message like:

"Just a tell your that your cleaning order is ready at <your business name>. Pls call <your business phone number> if you have any question."

You can also customize the text message by entering your own message in Notification Message setting.




You may print Label using Easy Labels app. If Easy Labels app is installed on the station, "Print Label" button will be visible on the page. You may select "Print Label" button to print labels and attached it to the cloth.

Use one of the following label sizes to print label, film tape works well under the wet condition:
DK-1209 (1.1" x 2.4" or 29 mm x 62 mm)


DK-1201 (1.1" x 3.5" or 29 mm x 90 mm)

DK-2113 (1.1" x 2.4", 62mm x 15.2m) Clear Film Tape


DK-2210 (1.1" x 3.5"

) Tape

DK-2205 (1.1" x 2.4",

62mm x 15.2m) Tape

DK-2211 (1.1" x 3.5") White Film Tape

DK-2212 (1.1" x 2.4" , 62mm x 15.2m) White Film Tape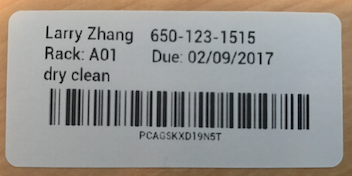 When customer comes to pick up the cloth. you can scan the order bar code with from customer receipt or the label on the main screen. It will locate the right order for you.

Once the order is paid,  picked up or delivered. you may select "Close Order" to close the order so the order will be removed from active orders list in the main page.